HighPower ServoProp 25 wins Overall DAME Award 2023
Oceanvolt's HighPower ServoProp 25 has been announced as the overall winner of the DAME Design Awards at METSTRADE 2023.
Andre Hoek, chair of the DAME Award jury, presented the 32nd-anniversary edition of the DAME Award at the opening of the METSTRADE show this morning (15 November 2023) during the METSTRADE Breakfast Briefing in the RAI Amsterdam Convention Centre.
The HighPower ServoProp 25 (HPSP25) is a 25kW electric saildrive equipped with a controllable pitch propeller. It also serves as a powerful hydrogenerator on 45-70ft sailboats and is capable of hydrogenerating 5kW at 10 knots. The compact design includes an integrated motor controller and liquid cooling system. The system is fed from a safe, low-voltage 48V battery pack.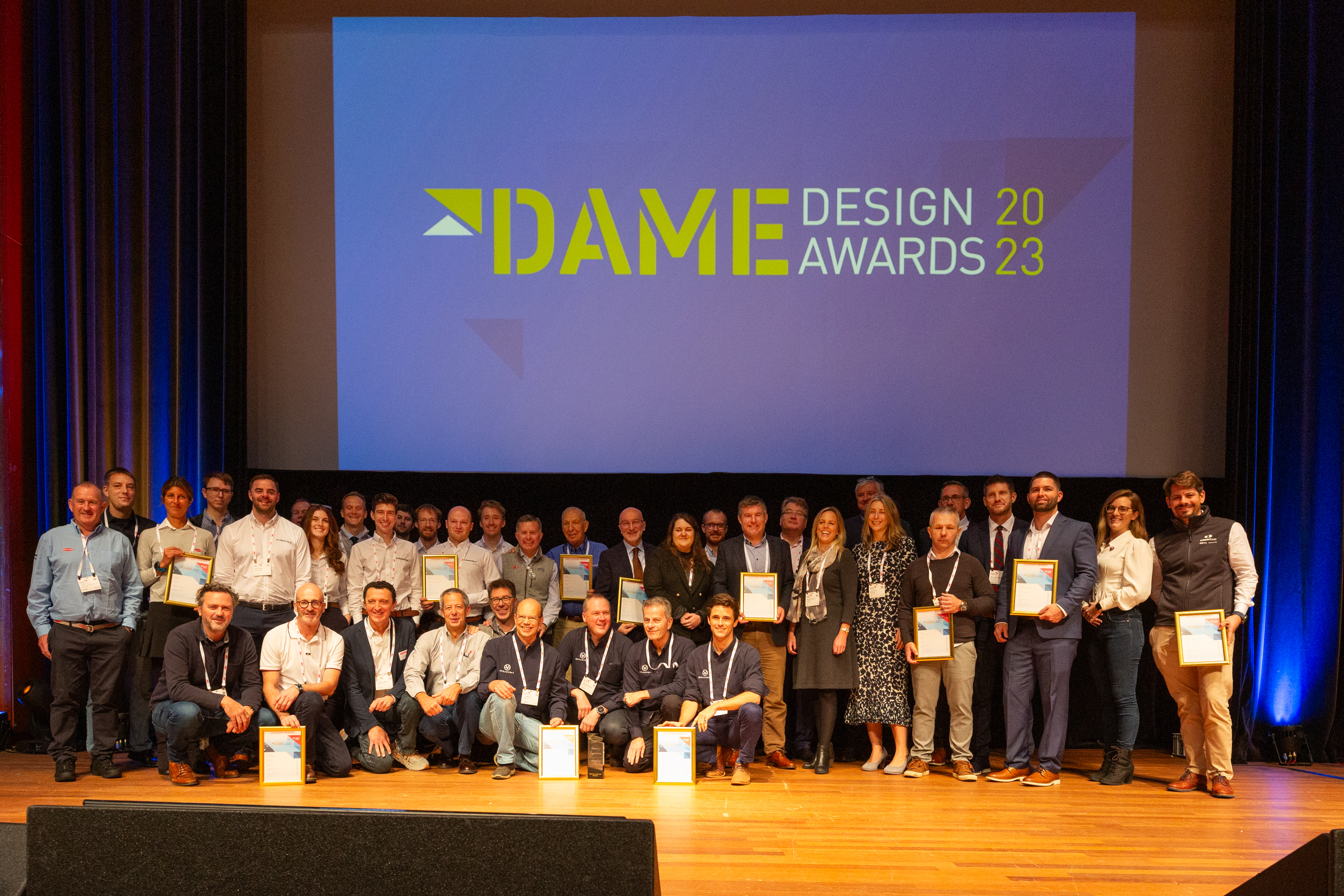 DAME Award 2023 overall winner:
Oceanvolt – HighPower ServoProp 25
A total of 53 products from 19 countries across four continents were nominated for the DAME Award 2023 competition. The full list of nominees is available on the DAME Awards website.
What the Jury said about the HighPower ServoProp 25:
"There were several strong electric outboard submissions nominated this year. However, the Jury was this year drawn to a different propulsion application and selected the outstanding HighPower ServoProp 25 from Finnish electric inboard pioneer Oceanvolt to win the Propulsion & Dynamics category – and ultimately claim the overall DAME 2023 Award. 

This excellently conceived and engineered 25kW electric saildrive tangibly moves the goalposts for 45-70ft sailboats in terms of providing a reliable and extremely quiet option for electrification. Oceanvolt's use of its controllable pitch propeller technology ensures maximum efficiency for propulsion and hydrogeneration, with the system able to return up 5kW of power when the yacht is sailing at 10 knots. 

Thought has been given to minimising installation time with an integrated motor controller and liquid cooling system, while the ServoProp 25 operates from a 48V battery pack, keeping it within the safe voltage threshold. The saildrive has been designed to be installed with the propeller facing forwards, for greater efficiency, or backwards. Composite leg construction and the ability to change the saildrive oil from inside the boat without lifting it substantially ease maintenance for blue water yachts destined to spend long times between facilities with cranes. 

In summary then this is an exemplar product that pushes the electrification agenda toward more far-reaching horizons. With design effort apparent in every facet, it is the perfect winner of the DAME Award 2023 against a strong field of category winners. "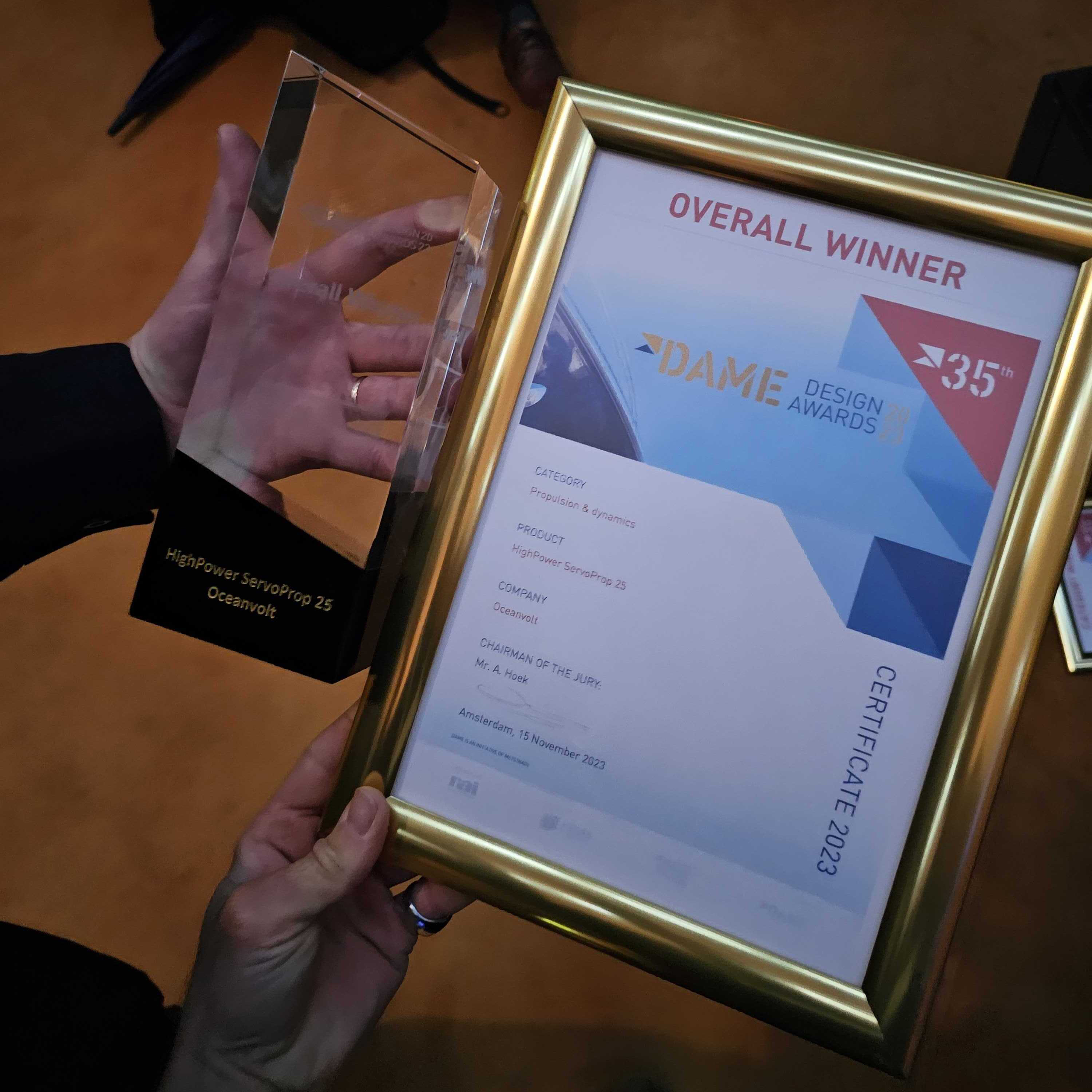 The DAME Design Awards at METSTRADE featured eight completely new categories this year, reflecting the rapidly changing nature of marine technology and the industry's future customers.
For the first time, all entrants were required to explain how environmental impact reduction has been considered across the whole product design. The international jury of eight leading design and user experts assembled in the DAME Award's specially created assessment room at RAI Amsterdam to spend two intensive hands-on days examining 100 submissions.
For press enquiries contact: anna.hietanen(at)oceanvolt.com