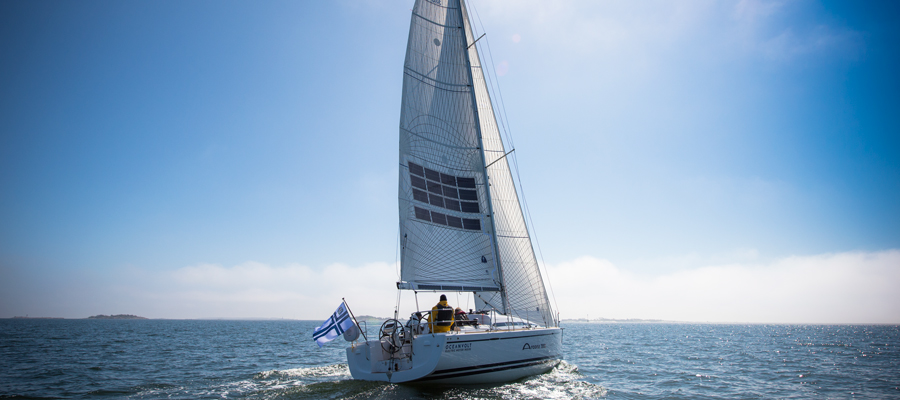 Swedish top design
The yachts of the swedish boatbuilder Arcona Yachts are known for their high quality and great sailing features. The new Arcona 380Z offers these and tomorrows electric propulsion technology as standard.
Finnish cutting-edge-technology
The finnish Oceanvolt represents the worlds absolute top in the design and manufacturing of electric motor systems. The motor of the Arcona 380Z, Oceanvolt SD15, acts as a high efficiency hydro generator when sailing with just the push of a button. This means that it generates energy while you are sailing and stores it in the propulsion battery pack for later use.
Energy from the sun
Arcona 380Z utilizes the newest solar cell technology. The ultra-flexible photovoltaic Power Sail cells by UK Sails installed directly on the mainsail's cloth, provide a capacity of 1kW. Sunbeam Systems has created solar cells that have been installed on the boom and mast of the Arcona 380Z. Combined, the solar cells on the mainsail, boom and mast create 2kW of solar power. On a calm day the Arcona 380Z can motor at a speed of 4 knots just by using the solar power created from the sun and the Oceanvolt SD15 electric motor.
No more pollution in the water
The hull of the Arcona 380Z has not been painted with poisonous paint. A new step towards polutionless boating has been taken. The Arcona 380Z utilizes Sonic Shield ultrasound technology to keep the hull clean from algae. Other impurities can be wiped of using a sponge.
All of your house comforts onboard
The huge battery capacity of the propulsion system is enough to power and charge all the electronics and appliances onboard. if using gas in the boat feels terrifying, now you can leave it completely out. An induction stove works efficiently and safely as a a part of the electric system of Arcona 380Z.
Oceanvolt SD15 electric motor, motor controller and battery charger
Oceanvolt throttle lever and display
Valence battery pack
Victron Energy Color Control GX & Arcona control panel
Solar panels on the boom of the Arcona 380Z
Solar panels on the hull of the Arcona 380Z
Why did you choose the Oceanvolt electric motor system?
"It is the only viable solution on the market."
How is the system performing?
"Like a dream."
What are the key benefits of the Oceanvolt electric motor system in practice?
"The immediate response to the throttle, you really get the force exactly when needed, and there is no more wondering if the motor starts this time or not."
How much do you sail?
"3 months of the year."
When do you typically use the system?
"In and out of harbor, solar sailing in low wind speeds thanks to the high level of solar power and obviously cruising when no wind at all."
Were you surprised by something with the system?
"The huge torque makes the motor feel a lot more powerful than expected."
Technology used in the Arcona 380 Z (Zero Emission):
Boatbuilder: Arcona Yachts
Boat waterline length: 10.6 m
Boat beam: 3.8 m
Boat weight: 6850 kg
Electric motor system: Oceanvolt SD15 sail drive electric motor
Electric motor system nominal power: 15kW
Electric motor system voltage: 48 V
Electric motor system weight: 46.5 kg
Launch: Vene-Båt 2015 Expo, Helsinki