Baltic Yachts chooses Finnish Oceanvolt as the supplier of electric propulsion for its latest project
For immediate release 25.9.2020
The new boat is an electric 68-foot Café Racer manufactured in Finland. The boat, designed by Javier Jaudenes, is just over 20 meters long and 5.5 meters wide.
Sustainability is spreading to all levels of sailing, including the absolute luxury class of sailboats. Baltic Yachts' latest project is an undeniably green yacht, yet providing exhilarating performance. The Café Racer manifests Baltic Yachts continuous striving for reducing both buildtime and lifecycle related environmental impact, and is a great showcase of the company´s ambitions related to sustainability.
The Café Racer 68 has been designed as an electric boat in collaboration with Oceanvolt. The boat combines Oceanvolt's state-of-the-art electric propulsion with Baltic Yachts' innovative system design. Baltic Yachts chose Oceanvolt because of its superior hydrogeneration and safe 48V operating voltage.
The motor system of the boat comprises two award-winning Oceanvolt ServoProp electric motors which also act as generators and charge the two 30.4kWh lithium battery packs of the yacht when sailing. At a speed of about 11 knots, the electric motor system is capable of generating an average of 5kW of electricity and 10kW at 15 knots. If a longer operating range is needed - despite the generous battery capacity and efficient hydrogeneration feature - the boat has a microturbine-powered range extender. This turbine generator is very efficient and will eventually run on hydrogen as well.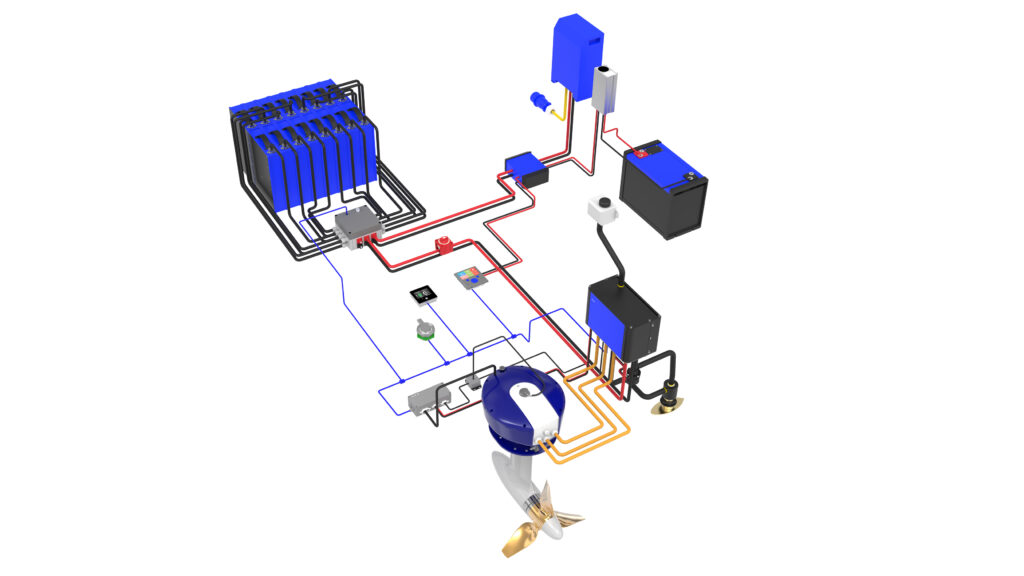 "We at Oceanvolt are really happy and proud to be involved in this project with Baltic Yachts, which represents the best in its field. At the same time, this project is a demonstration of the excellent properties and suitability of electric propulsion also for highly demanding customer groups" says Tommi Lassila, CEO, Oceanvolt Oy.
The first Café Racer 68 is currently in production and will be delivered to its owner in the summer of 2021. The boatyard has the prerequisites for small series production in the future, but each boat will be carefully tailored to suit the customer's wishes.
Sophisticated, quiet and emission-free - the future of environmentally friendly yachts is already here!
Baltic 68 Café Racer
Length 20.18 m, waterline length 19.23 m, width 5.56 m, draft 4.0 m, displacement 20,600 kg, designer Javier Jaudenes, additional information Baltic Yachts
Electric propulsion system by Oceanvolt
2 x Oceanvolt ServoProp variable pitch saildrive
2 x 30,4kWh Lithium battery pack 
Oceanvolt Oy
Founded in 2004, Oceanvolt is a leading manufacturer of electric and hybrid propulsion systems for boats. Oceanvolt offers state-of-the-art electric motors that combine sustainability, safety and reliability.
Oceanvolt was founded by serial entrepreneur and sailor Janne Kjellman, who understood the necessity of the engine in modern sailing, but wanted to create a quiet and environmentally friendly alternative to the diesel engine.
Oceanvolt's electric propulsion systems are suitable for use in sailboats, motorboats, harbor ferries and other small and medium-sized commercial boats. With built-in software, Oceanvolt systems can be monitored and serviced in real time via the Internet. Oceanvolt's SD saildrive system has been awarded the Pittman Innovation Award by SAIL magazine, among other things. In 2017, the patented ServoProp saildrive motor with a variable pitch propeller won the industry's most prestigious DAME award in the engine and propulsion category.
Along the way, Oceanvolt has built a global network of boat designers, boat builders, shipbuilding engineers, boaters and other partners. Oceanvolt delivered an electric motor system to Conrad Colman's IMOCA 60 boat for the 2016 Vendée Globe. Right now, Oceanvolt is working closely with Alex Thomson Racing and has equipped his latest HUGOBOSS racing boat for the Vendée Globe 2020 race later this year.
Baltic Yachts
Baltic Yachts is the world's leading builder of advanced composite yachts. Our highly skilled workforce uses leading edge marine technology and traditional craftsmanship to create award-winning yachts. Each yacht is unique, unmatched in its quality, unmatched in its performance. Through our deep understanding of advanced composite materials like carbon fibre, we build luxury yachts, which are lighter, stiffer, faster and greener than the competition. Controlling weight, maximising performance and using a rigid, precision-engineered structure provide the platform for the best possible sustainable sailing experience.
For more information
Tommi Lassila, CEO, Oceanvolt Oy
tommi.lassila@oceanvolt.com, +358 50 332 6024
Elisabet Holm, Head of Marketing, Baltic Yachts Oy Ab ltd.
Elisabet.holm@balticyachts.fi, +358 50 59