Oceanvolt ServoProp – Category winner DAME Awards 2017!
Oceanvolt ServoProp variable pitch sail drive has won the category of "Machinery, propulsion, mechanical and electrical systems and fittings" in the DAME Design Awards 2017 held during the METS exhibition at Amsterdam RAI.
"As pure electric propulsion moves from novel concept to more widespread use, the Jury welcomes efforts to improve the efficiency of the installation. A problem for electric sail drives with conventional feathering props is that they cannot regenerate electricity under sail. Oceanvolt's Servoprop overcomes the issue by providing variable pitch control. That improves propulsion and sail efficiency, but the prop can also be opened to provide up to 1kW of generated energy at 6-8 knots through the water. It was this specific feature for which the Jury assigned the Servoprop a category win over some other strong entries." - DAME jury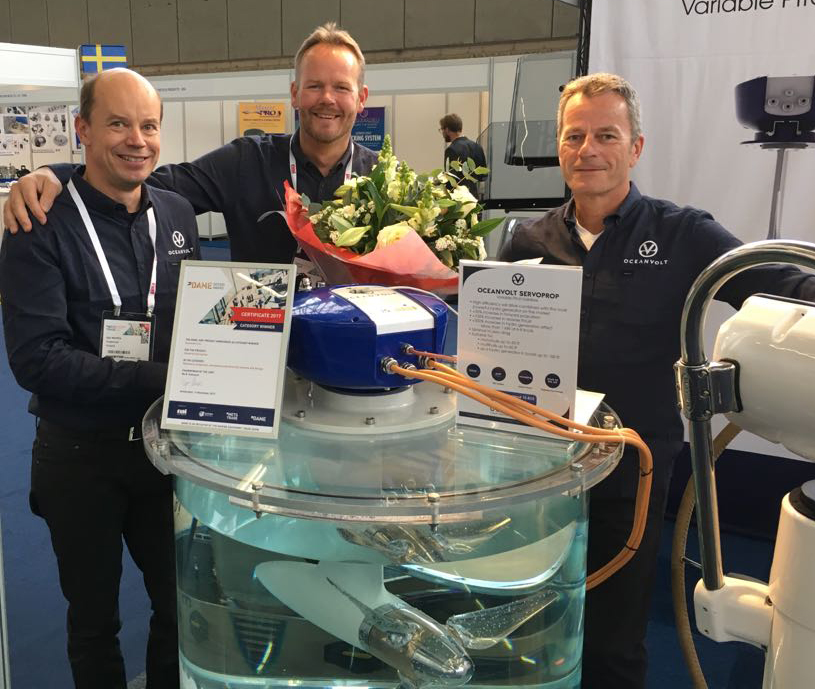 The DAME Design Award is the largest marine competition of its kind, anywhere in the world. It focuses attention on the art and science of design in all aspects, from styling, functionality, and innovation, through to ease of implementation, practicality of use – and even packaging. Now in its 27th year, METSTRADE has continued to support and build this competition to highlight the critical role of design in retaining today's boat buyers and attracting the next generation.
The DAME is judged by a panel of top naval architects, boat, interior, and industrial designers, plus user experts. To win a DAME Category and then to attain the ultimate prize of DAME Award Overall Winner is widely recognised as having reached the pinnacle of design practice for marine equipment.