Propulsion Systems for Harbor Ferries
Operating an electric propulsion system in a professional workboat is significantly more cost efficient than using traditional fossil fuel powered combustion engines - mainly due to near zero maintenance costs, but also due to lower energy cost.
As the world leader in providing hybrid and electric power and propulsion solutions for mono and multihull yachts, Oceanvolt is in a unique position to help customers in professional marine transportation capture the advantages of this technology as it becomes mainstream.  Oceanvolt has already installed hundreds of systems in both private and commercial  vessels.
As the cost comparison below illustrates, the switch from diesel to hybrid can be justified by numbers alone (aside from the environmental and comfort benefits).  The facts show that a break-even point can be realized in just over 1 year (these figures assume near constant running of a generator - which lengthens the payback period.  In a pure electric solution (i.e. a small ferry in an urban environment), the numbers would be even more favorable.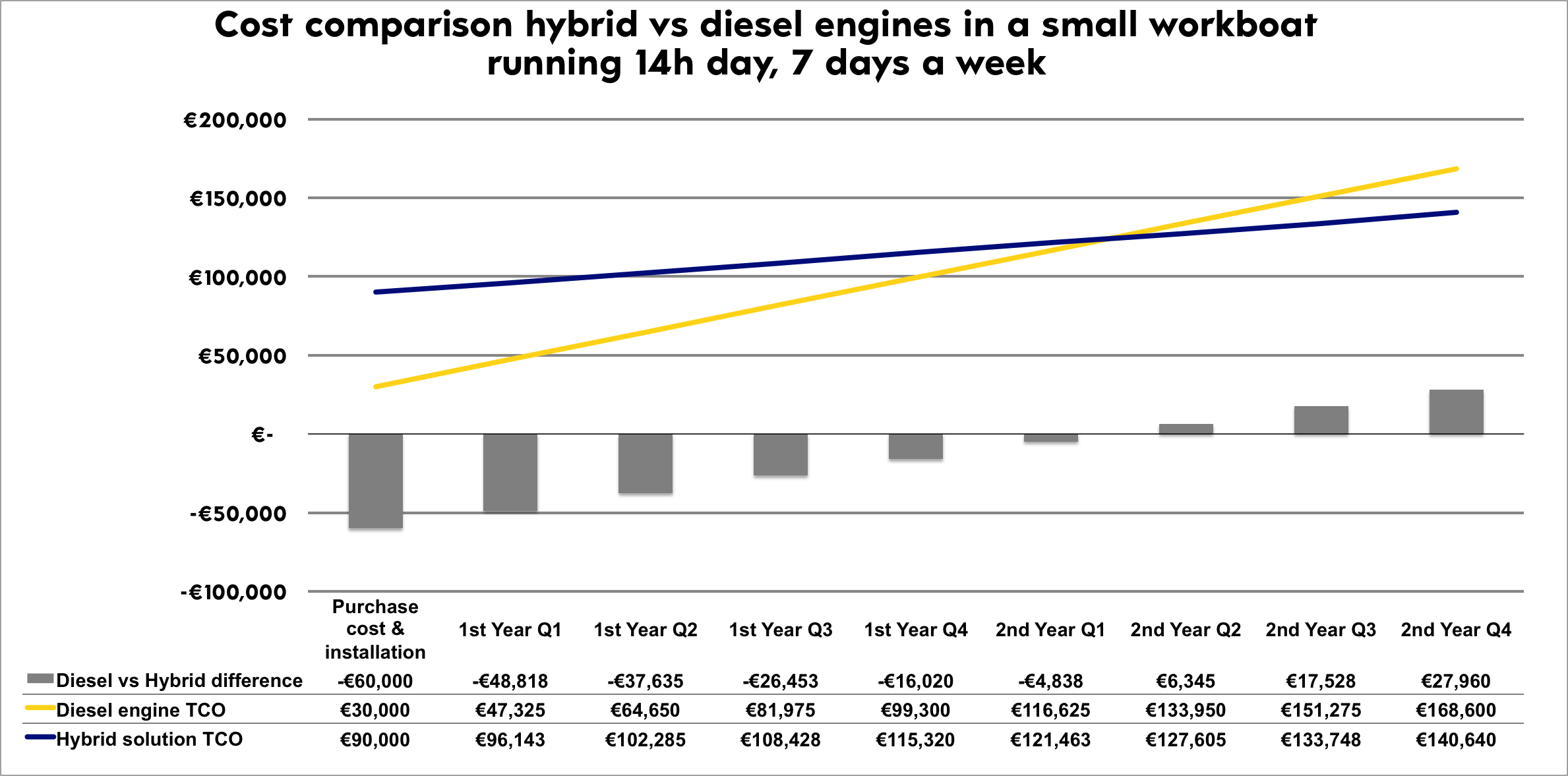 Example based on:
The diesel engine uses 10L/hour of fuel, 14 hours/day at 1Euro/L.

The diesel engine requires maintenance every 200 hours at a cost of 750 Euros/cycle

The distances motored are so long that the Oceanvolt generator needs to run 9 hours a day

The generator uses 6L/hour of fuel

The generator need maintenance every 200 hours at a cost of 750 Euros/cycle
Owner testimonials
Since 1882, Odense Aafart has been sailing on Odense's beautiful river. Aafarten has gone from transporting 'the rich and finer' people from Munke Mose to Fruens Bøge to a public...

The first tourist boat was placed by crane into the Dijver canal in Bruges in 2019 and since then five more have started operating in the UNESCO World Heritage City....

"Gull" was originally built in 1958 by R A Hamper in Fareham Hampshire for use as the Hamble – Warsash Ferry. She was licensed to carry twelve passengers and worked...