DIVA 34 SE
The new DIVA 34 SE gives you the latest technology for a greener boating life.
One of the world's first series-produced boats that can be recycled in normal processes
New technology and new materials provide a hull and deck where the materials can be separated during recycling, and reused
Electric operation provides zero emissions when driving the motor and regeneration when sailing
Solar cells on roof for charging
Fully recyclable composite sails, OneSails Forte
The result of 5 years of development
The basis for creating a boat where the hull and deck can be recycled lies in being able to separate the constituent materials during recycling. In normal composites it does not work. By using a thermoplastic as a binder in the composite material, the hull and deck can be heated, the materials separated and reused. Through a pilot project in collaboration with, among others, the Norwegian state and a French chemical group, the shipyard built a 44-foot racing boat where the construction technology was verified. The end result is a structure that is at least as strong as previous technology.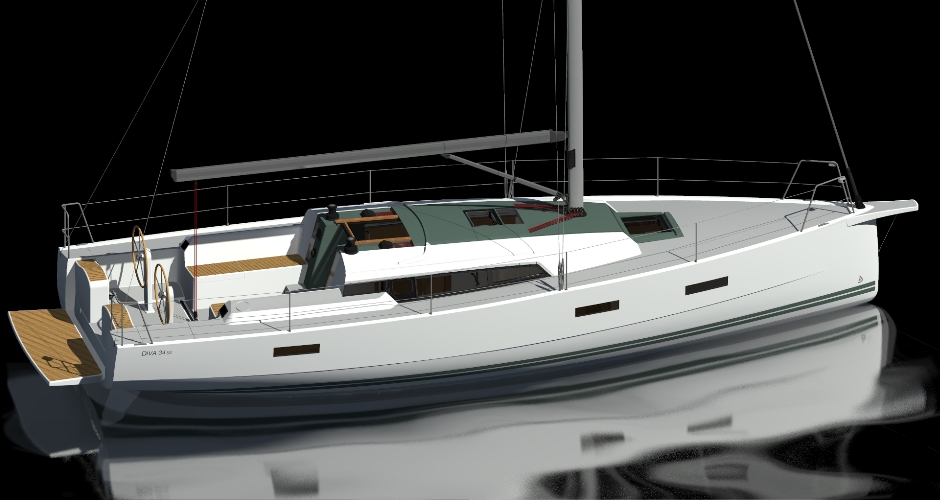 Electric operation
DIVA Yachts has chosen Finnish Oceanvolt as the supplier of the electric motor. The reason here is their vast experience and world-leading position in delivering specifically to sailboats and displacement boats. The electric motor can also regenerate energy while sailing. The first DIVA 34 SE is being manufactured right now. This boat will have a system of solar cells on deck to optimize energy-friendly charging.
Recyclable sails
Through DIVA Yachts collaboration with OneSails, they can also offer sails in a recyclable material. OneSails Forte composite has been engineered to be recyclable. By replacing glue and film with heat consolidation, the sails can be recycled in standardized processes. This sailcloth is the first to be certified according to ISO 14040 Life Cycle Assessment.
Technology used in the electric DIVA 34 SE sailboat :
Boatbuilder: DIVA Yachts
LOA: 9.21 m
Boat beam: 3.48 m
Displacement: 5000 kg
Electric motor system: Oceanvolt SD8
Electric motor system nominal power: 8kW
Electric motor system voltage: 48 V