Nautor Swan 43 – S/Y Avilion
"The electric motor is clean, quiet, powerful and what's best self-sustaining. It's also a dream to use in tight situations, because you just flick the control lever on and you're ready to go!" – Owner of S/Y Avilion
The classic Nautor Swan 43 S/Y Avilion (hull #22) designed by Sparkman & Stephens was built in 1970 and sold to South-Africa. From there it went on to sail around the oceans and ended up in St. Maarten wherefrom the current owner bought it in 2011 and brought it back home to Finland. It is one of the 67 Swan 43 ever built and one of the 8 currently in Finland. The Swan 43 is undergoing complete refit and restoration and will have its entire electrical & technical system redone.
The Swan 43 is a true sailboat classic. The boat is very seaworthy and strong structured and in many ways ideal for long range ocean sailing.

Extensive overhaul of the boat began a few years ago. Among other things, the boat's original 35 hp Perkins 4108 diesel engine was replaced with an Oceanvolt ServoProp.

The boat's propulsion system has been placed under the floors. The generator is located on the site of the former diesel engine below the main entrance in a soundproof housing. The aft cabin has become much more spacious because the systems previously required by the diesel engine took up some of the space.

The electric motor itself is considerably quieter than the diesel engine, but it is not totally silent. For this reason, the sound insulation of the propulsion system has been done as carefully as possible. The electric motor is housed in its own watertight and airtight soundproof box under the aft cabin floors.

The ServoProp drive unit is mounted as a tractor, this means that the propeller is in front of the drive. In this way, the propeller obtains as uninterrupted water flow as possible, which further improves the efficiency of the hydrogeneration.

The renovation of the boat will be completed by summer 2021.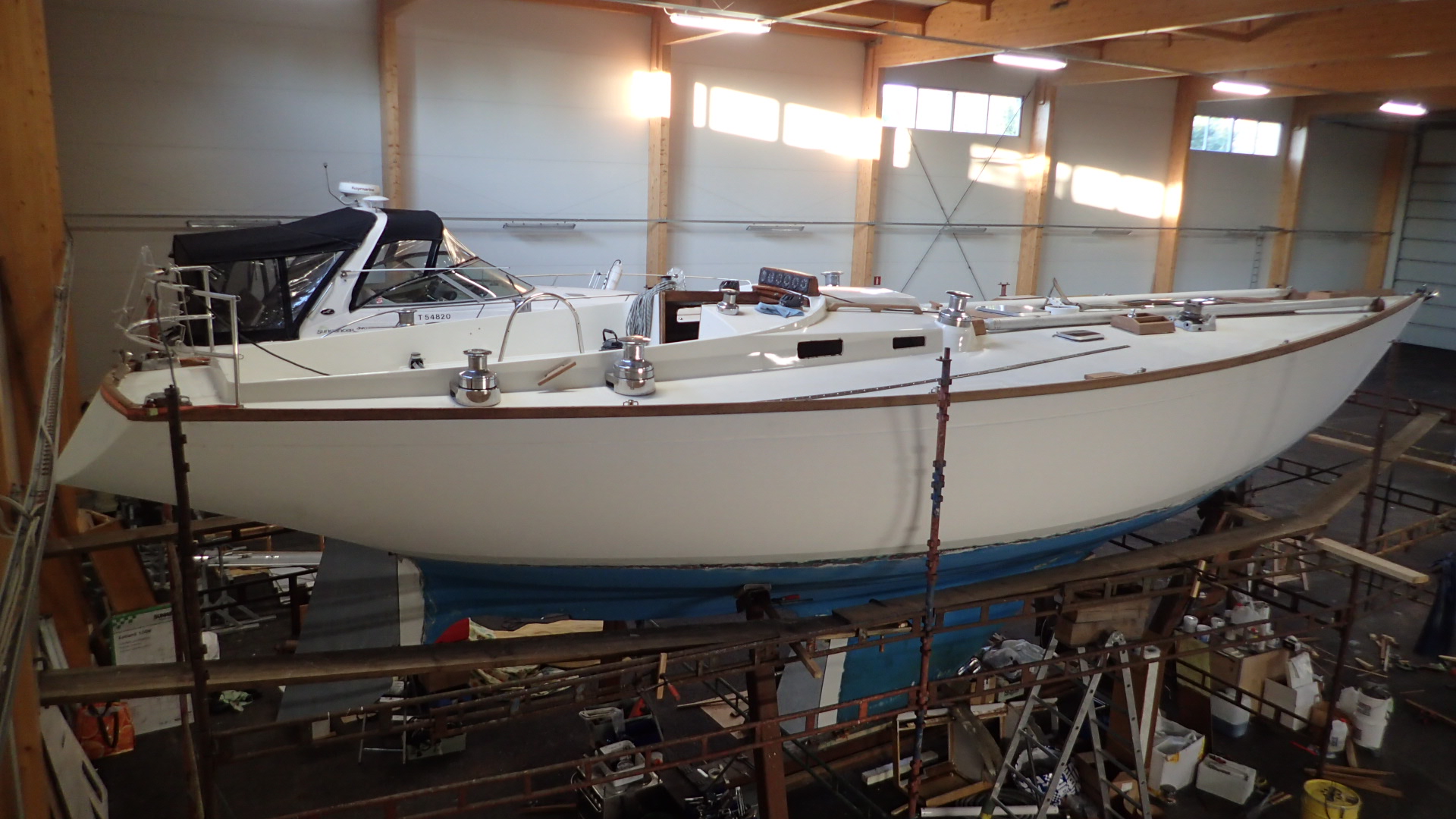 Performance values:
Power consumption

5 knots / 2.5 kW
6 knots / 5 kW

Motoring range with the 10 kWh Victron batteries in 20 nm at 5 knots

A Cleantron 30 kWh battery pack (same volume and weight) would have a battery range of 60 nm

Operating range at 5 knots in hybrid mode is 900 nm.
Technology used in the electric Nautor Swan 43:
Boatbuilder: Nautor's Swan
Designer: Sparkman & Stephens
LOA: 42.78' / 13.04m
Boat beam: 11.67' / 3.56m
Boat weight: 10 000 kg
Previous boat engine: Perkins 4.108 diesel engine
Electric motor system: Oceanvolt ServoProp 15
Electric motor system nominal power: 15kW
Electric motor system voltage: 48 V
Batteries: 10kWh lithium battery pack
Weight of batteries: 130 kg
Charger: Victron Energy 1,5 kW battery charger
Generator: Polar Power 5.5 kW DC generator with 150 liters of Biodiesel