X-Yachts X4⁹E
Every X-Yacht is designed with performance in mind - and the X4⁹E is no exception! The X4⁹E is the first X-Yacht built, as a hybrid-powered yacht. All to protect the earth, for a better sailing experience at sea.
I looked at an X4⁹ and another luxury brand boat in the same size. I liked X-Yachts obviously from my previous boating experience and trusted its reputation, but the other brand possessed similar qualities and so I kept an open mind. I told both sales managers that I engaged with how I wanted to explore the possibility of designing a hybrid-electric system based on the Oceanvolt propulsion and hydro generation ServoProps.

The enthusiastic reaction of X-Yachts to this idea stood out, and especially the Technical Director John Morsing had prepared himself in a fantastic manner for our first meeting, bringing design diagrams and discussing specific knowledge he had already obtained from the Finnish producer of the Oceanvolt system, so it quickly became clear to me that the fit on this aspect was great between X-Yachts and myself.

I guess I am a bit of a tech geek and I like this kind of innovation. There is also probably a somewhat sleeping eco-warrior hidden in me and while the eco-impact of my boat is minimal or even negative perhaps if you put a certain lens on, I do believe that small steps and innovation go hand in hand in securing a better greener future for the world. The concept of EV (electric vehicles) as a trend has established itself firmly in our society and will also rapidly spread into the maritime world once various technological barriers have been broken down.

How do you see the future of electric boats?

Converting existing boats from diesel to electric (or hybrid) is happening already to some extent, and there are a lot of solutions available and many different levels of quality in use. The internet is flush with groups discussing and planning and implementing (and criticizing) such specific projects. Meanwhile, newbuilt electric boats are picking up pace.

It remains a small number, partly due to the lack of experience (validation) with the solutions being offered, and partly to do with the price of the solutions. We have seen from electric cars how this landscape changed quickly from a similar picture, where initially an electric car typically was an expensive Tesla to now ten years later where electric cars come in many sizes and price categories, and I think we will see something similar with yachts.

Have you received any comments from other sailors regarding your e-boat? 

Yes, always curious and mostly positive questions. It is clear (even if unspoken) that very many sailors are sceptical about the whole setup, mostly due to a lack of knowledge about the system. The most common misconception I meet is the belief that I must have a very short range, which is limited even if I should bring a large and heavy lithium battery bank because most sailors don't expect me to carry a generator that can sustain continuous sailing for the motor when on a rare occasion I want to do so.

John Haurum – Owner of the X-Yachts X4⁹E "Flux"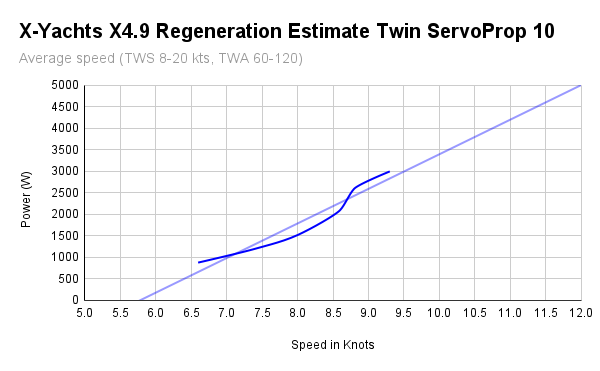 The X4⁹E is the first X-Yacht built as a hybrid-powered yacht. It is fitted with 2 x 10 kW electric saildrives, a 28,8 kWh Lithium battery bank and an onboard DC generator with capacity of 11 kW. The hybrid concept is chosen to make long-distance crossings possible without worrying about distance limitations.
When I met X-Yachts and shared my ideas X-Yachts immediately committed to the project and shared a common interest in merging innovation, sailing pleasure, and a greener future.

The fact that X-Yachts has their own design office in-house at the yard in Denmark is essential to build and control a project like this – When looking back at the heritage of X-Yachts, and the innovation that has already been done within X-Yachts – I'm sure that this will be another great success"

John Haurum – Owner of the X-Yachts X4⁹E "Flux"

Read this year's X-Yachting Magazine and learn more about the X4⁹E (page 126->) that introduces electric propulsion to the X-Yachts family!
Technology used in the hybrid electric X-Yachts X4⁹E sailboat:
Boatbuilder: X-Yachts
Length overall: 14.50 m
Boat beam: 4.49 m
Displacement: 12900 kg
Electric motor system: 2 x

Oceanvolt ServoProp 10 saildrive motor

Electric motor system nominal power: 2 x 10kW
Electric motor system voltage: 48 V
Propulsion battery bank: 28,8kWh lithium batteries
Generator: 11kW DC generator