X-Yachts X4⁹E
Every X-Yacht is designed with performance in mind - and the X4⁹E is no exception! The X4⁹E is the first X-Yacht built, as a hybrid-powered yacht. All to protect the earth, for a better sailing experience at sea.
A new range of electric powered sailboats is a natural step for X-Yachts in order to support a greener future. Based on X-Yachts 42 year path of innovative yachts and heritage, combined with Danish (and Finnish) green and sustainable energy, we look forward to launching the first electric sailboat in May 2022.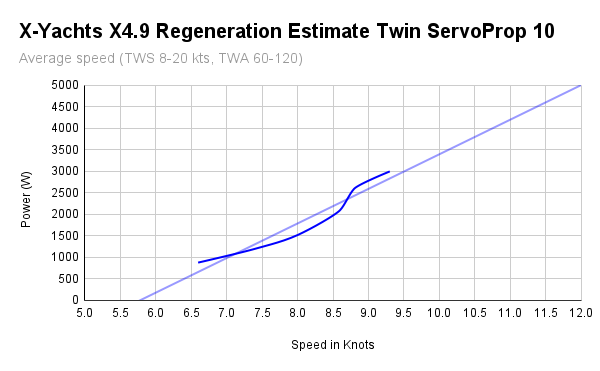 The X4⁹E is the first X-Yacht built as a hybrid-powered yacht. It is fitted with 2 x 10 kW electric saildrives, a 28,8 kWh Lithium battery bank and an onboard DC generator with capacity of 11 kW. The hybrid concept is chosen to make long-distance crossings possible without worrying about distance limitations.
When I met X-Yachts and shared my ideas X-Yachts immediately committed to the project and shared a common interest in merging innovation, sailing pleasure, and a greener future.

The fact that X-Yachts has their own design office in-house at the yard in Denmark is essential to build and control a project like this – When looking back at the heritage of X-Yachts, and the innovation that has already been done within X-Yachts – I'm sure that this will be another great success"

John Haurum – The client of the first electric-powered X-Yachts

Read this year's X-Yachting Magazine and learn more about the X4⁹E (page 126->) that introduces electric propulsion to the X-Yachts family!
Technology used in the hybrid electric X-Yachts X4⁹E sailboat:
Boatbuilder: X-Yachts
Length overall: 14.50 m
Boat beam: 4.49 m
Displacement: 12900 kg
Electric motor system: 2 x

Oceanvolt ServoProp 10 saildrive motor

Electric motor system nominal power: 2 x 10kW
Electric motor system voltage: 48 V
Propulsion battery bank: 28,8kWh lithium batteries
Generator: 11kW DC generator