Suomenlahden ykkönen
The boat was originally built in 1981 for the 3/4 tonne World Championships held in Helsinki, organized by NJK. The boat was sponsored by Mallasjuomat Oy from which the name "Suomenlahden Ykkönen" ("Number one in the Gulf of Finland") comes from. Advertising rules prohibited the use of this name and the name of the boat was shortened to "SLY" for the races.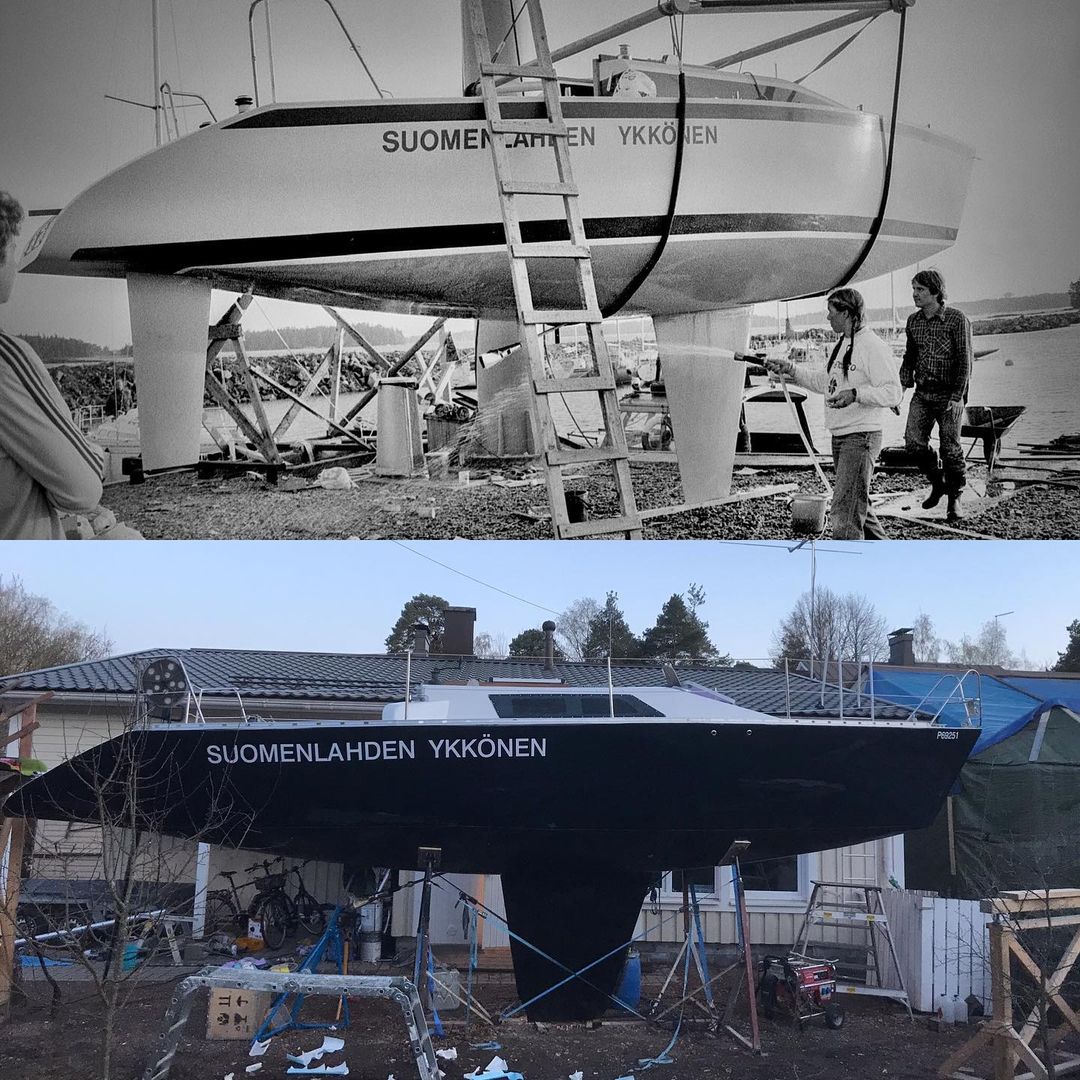 In the 1981 World Championships, the boat ranked 15th out of 30 boats. The original crew included Christian Bergenheim, Harry "Hjallis" Harkimo, Mikko Brummer, Kenneth Palmgren, Joel Nemes and Kari Wilén.
Suomenlahden Ykkönen is a MACH3 3/4 ton. The boat was designed by Bergenheim & Petrelius Yacht Design (Christian Bergenheim & Max Petrelius) and built by Framboat in Porvoo. The boat is made of fiberglass with divinycel as core material.
"My wife has influenced us to try to take care of the environment with our boat. The electric motor was a natural choice. I have a background in electric transportation through my work. Silence, no fumes/exhaust, increased torque and power are the key benefits of the electric motor in the boat. Everyone who's been onboard has been amazed that they can speak clearly from the bow of the boat with the person at the helm without yelling. Even our children Tuuli 2.5 years old and Suvi 5 years old have been amazed that there is no sound from the motor." – Owner of the Mach3 3/4 ton sailboat
Follow the boat on Facebook and Instagram









Technology used in the electric Mach3 3/4 ton sailboat:
Name: Suomenlahden Ykkönen / SLY
Boatbuilder: Framboat
Designer: Bergenheim & Petrelius Yacht Design
Length overall: 9.8 m
Boat beam: 3 m
Displacement: 2800 kg
Electric motor system:

Oceanvolt AX5 electric shaft drive motor

Electric motor system nominal power: 5.2kW
Electric motor system voltage: 48 V
Electric motor system weight:  28 kg