ELWOOD 950E MC (MID CABIN)
"If one has money to buy a new boat of this size, one should have the decency to leave internal combustion engines out of the game, because the world is burning. This boat is not meant to move between ports at high speeds and noise, banging against the waves, but instead in gentlemanly silence and splitting the waves. The boat is meant for family cruising in the archipelago of the Gulf of Finland, and the idea is that the whole family can enjoy the voyage too, not just the ports. The battery is specced to be big enough that we can spend nights on uninhabited islands, and not every trip needs a charging stop. We're going to make some great memories with this boat."
– Valtteri Lindholm, owner of the Elwood 950e MC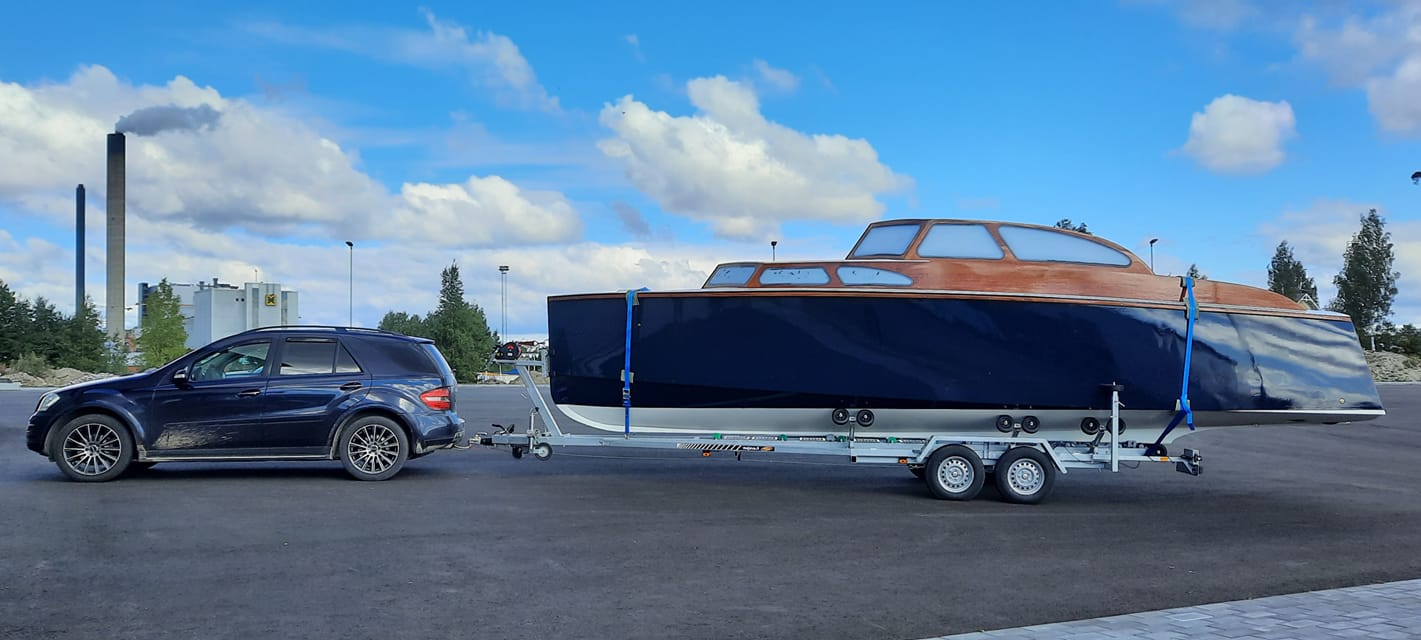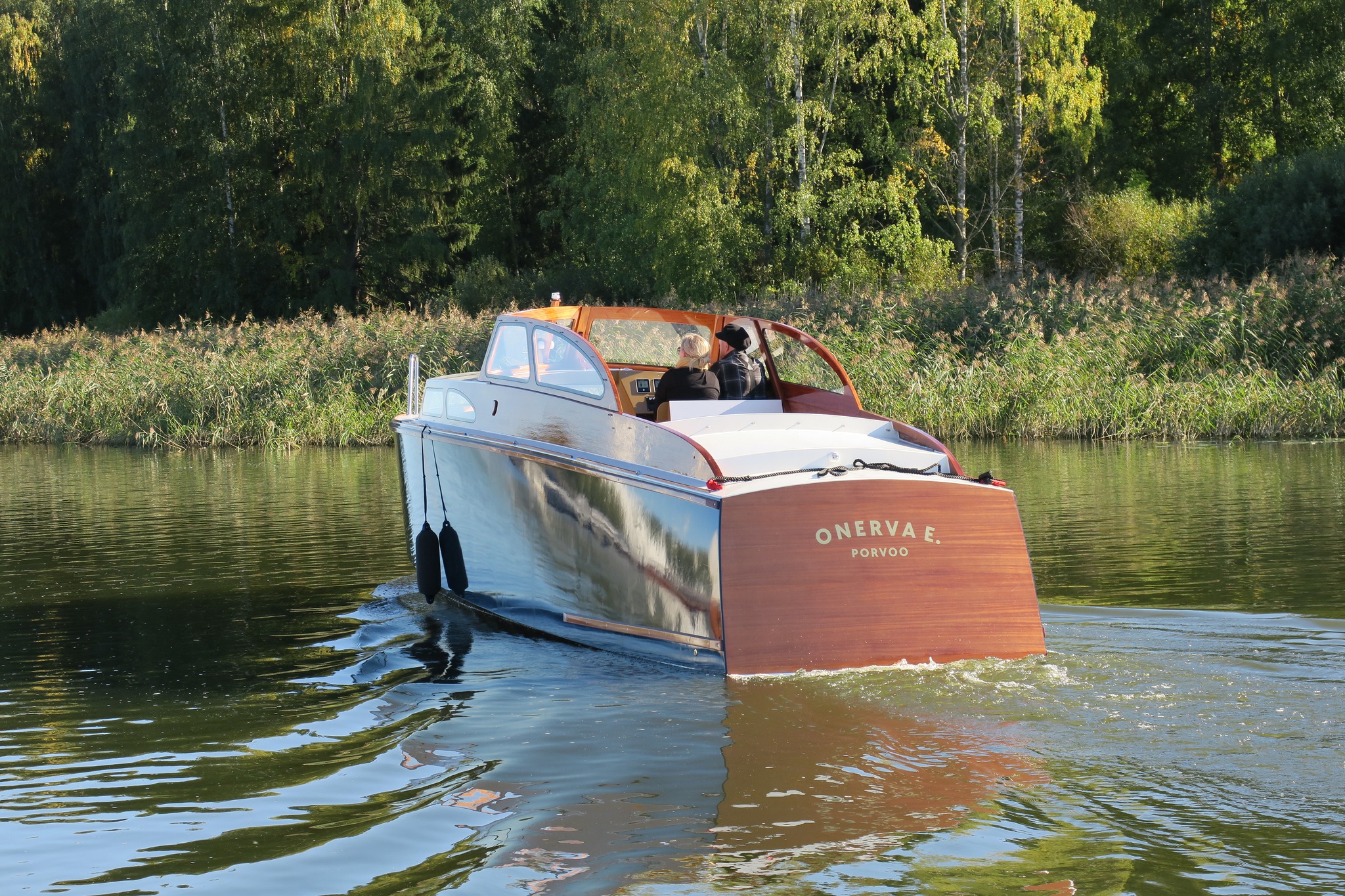 The Elwood 950e is a collaboration between two Finnish companies Elwood Boats and Oceanvolt. The owner of the first new boat is also a fellow Finn, Valtteri Lindholm, founder of the well-known army surplus store Varusteleka. Oceanvolt will be supplying the propulsion system and batteries for the new boat.
The Elwood 950e is reminiscent of a traditional Finnish "rum runner" but updated and tailored for recreational use and electric propulsion.
The load-bearing structure and decorative parts and visible surfaces for the Elwood are mahogany and birch and pine plywood which Virnes calls "nature's composites." There are lots of reasons for choosing them, he says that they are renewable, easy to work with and have excellent strength, better than many realize. While wood is often thought of as a heavier material than composites, the Elwood 950e weighs in at only 2170 kg. It can carry eight passengers.
On the propulsion side, the 950e is equipped with two Oceanvolt SD10 (10kW) electric saildrive motors and 57,6 kWh LiFePO4 battery pack. The entire electric propulsion system runs at a safe 48V.
All of this means a silent ride that can last for as long as 11 hours with a 80 NM range (148 km) at a speed of 7 knots. Which is more than enough range for a motor boat. The range under top speed (13 knots) is 35 nautical miles (65km). A portable generator can be added to increase the range even more.
Smaller boat models, like the Elwood 550e, Elwood 650e and Elwood 750e, are also available.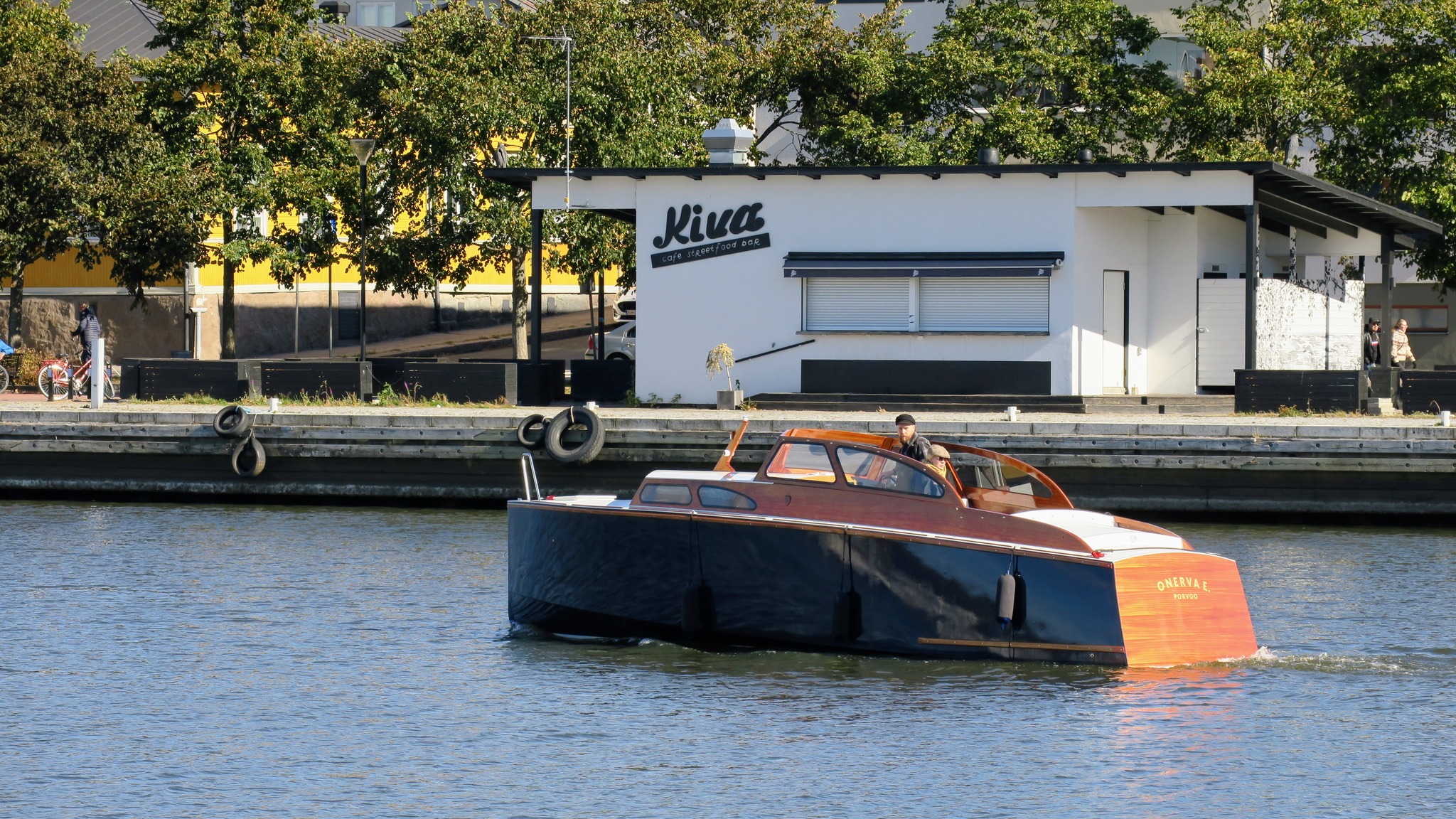 Technology used in the electric Elwood 950e MC motorboat:
Model: Elwood 950 e MC (Mid Cabin)
Boat builder: Elwood Boats
Hull length: 9.5 m
Beam: 2.3 m
Draft: 0.7 m
Empty mass: ca. 1600 kg
Maximum displacement: 2170 kg
Facilities: Bow cabin with 2 double beds, middle cabin, open space, rear cabin with twin beds.
Number of passengers: 8
CE-category: C
Motor power: 2 x 10 kW saildrives
Battery bank: 57.6 kWh
Top speed: ca. 13 knots
Range at 7 knots: ca. 80 NM (ca. 11 h)
Starting price: 199,000 € (incl. VAT 24%)