OCEANVOLT shaft drive motors
Oceanvolt offers a range of Shaft Drive motor systems to provide propulsion and hydro generation for vessels that require mid-ship motor placement.
Oceanvolt Shaft Drive systems offer a silent, vibration-free propulsion solution that is easy to install, requires minimal cabling and is maintenance free.
Synchronous permanent magnet electric motor
Shaft drive with 2.46:1 reduction
Lightweight:  weighs as little as 22kg
The only complete electric inboard propulsion system with EMC certification
Dual function:  propulsion & hydro generation (while under sail)
Air cooled
system installation layout (example)
Motor
Nominal Power
RPM
Reduction Ratio
Motor weight
Voltage
AX3
3,7kW
2400
2.46:1
22kg
48V
AX5
5,2kW
2400
2.46:1
28kg
48V
AX8
8,3kW
2400
2.46:1
28kg
48V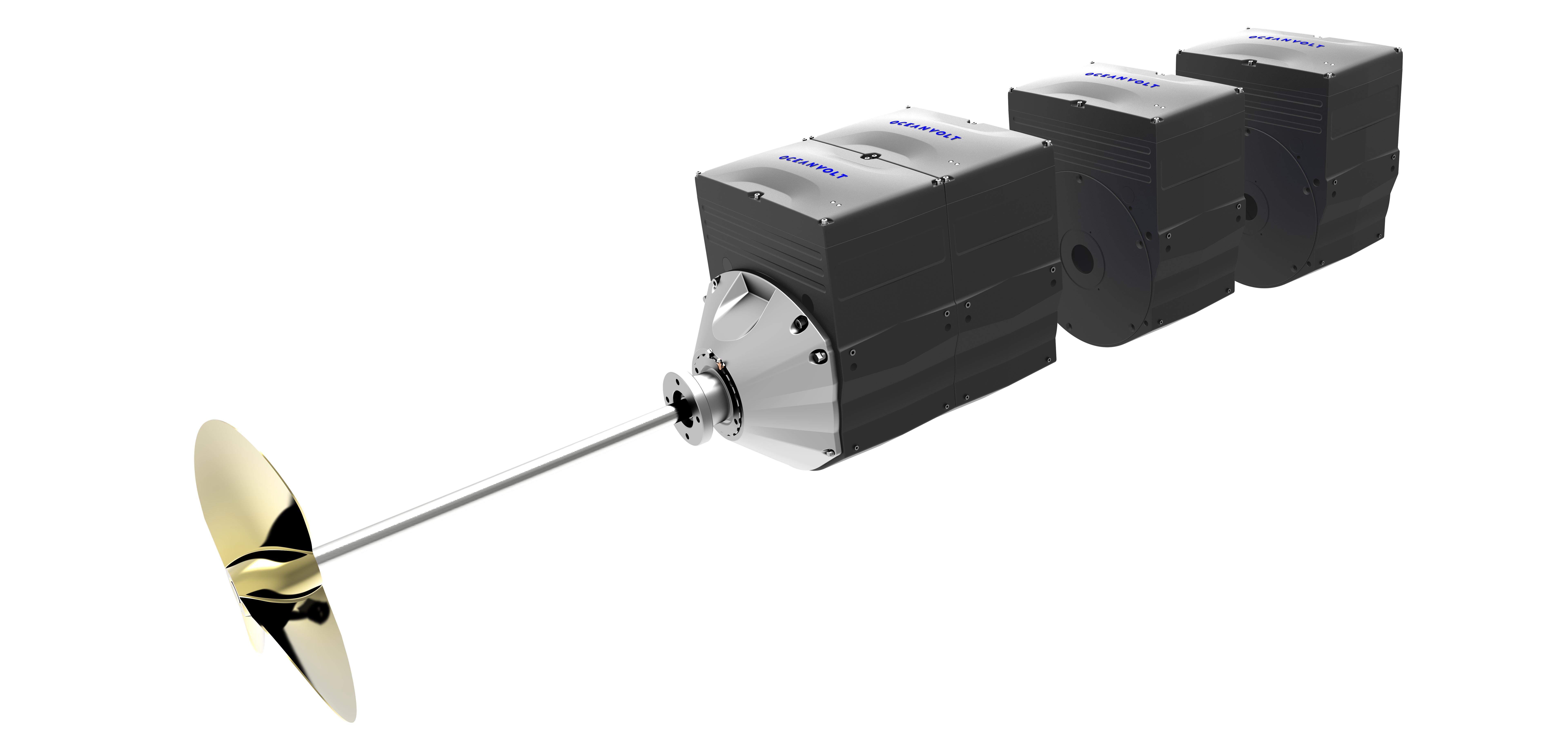 OCEANVOLT AXC – Modular shaft drive motor systems
The new Oceanvolt AXC series provides higher performance, greater durability and more comfort than ever before. The motors have been designed for the benefit of customers operating larger, heavier displacement boats including charter catamarans, non-planing motorboats, heavy duty commercial boats & small passenger ferries.
The Oceanvolt AXC series is a modular system available in four power configurations 10kW, 20kW, 30kW or 40kW; the latter of these provides power to the equivalent of up to 100hp.  The AXC system can also be installed as a twin system in catamarans and motor boats.
The AXC offers many of the same benefits as Oceanvolt's SD sail drive and AX shaft drive systems - only now with a longer cruising range, higher top speed and even lower levels of vibration and onboard noise levels due to the direct drive. AXC systems also require significantly less space on board compared to a traditional diesel engine.
The AXC has an integrated motor controller and can be retrofitted on the existing mounting frame of a Yanmar or Volvo shaft drive motor.