Salona 46
"Salona is very dedicated to supporting the electric-powered community on water, and we are actively promoting electric propulsion, which we believe is making boating even better. When we started developing the first Croatian electric yacht, we chose Oceanvolt to be our partner as we share the same passion and devotion towards electric propulsion and are streaming to be a pioneer in our field of expertise. Our venture, first on Salona 38 and later on 46, was courageous and bold, and we hope it will set the direction for our new future experiences that we are looking forward to." – Salona Yachts
The Salona 46 derives from Salona Yachts earlier models known for their exceptional performance, comfort and craftsmanship. The interior and the exterior of the new model, signed by J&J Design and Salona Design, have been upgraded considerably and the same applies to the hull shape and rigging.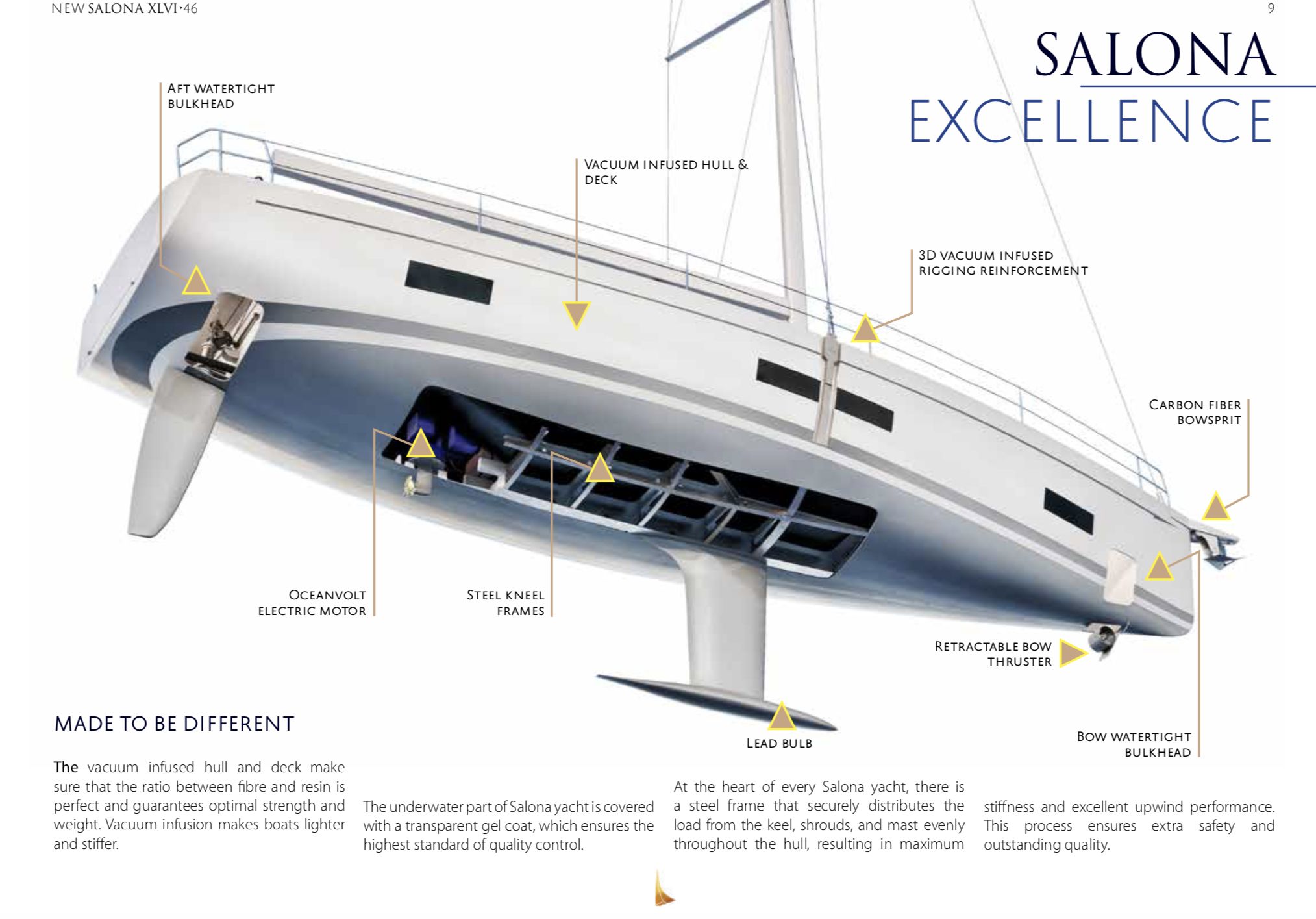 "From the second we stepped on board the Salona 46, the twin Oceanvolt ServoProp system was amazing! With the twin motors, we could turn easily in the marina without even using the wheel to steer. While sailing, we hydroregenerated energy twice as fast. And, the new Salona 46 is fast to sail making it a perfect boat for an electric motor." – Graham Balch / Green Yachts, owner of the first electric Salona 46
The sailboat is elegant in every aspect and offers more luxury and comfort. She performs well and even when on low-wind we were sailing fast. The Salona 46 is fitted with two 10kW electric motors that have 10 hours autonomy at the speed of 6.5 knots or maximum speed of 8.5 knots and 3 hours of sailing.

The batteries are charged by two Oceanvolt ServoProp 10 electric motors that can charge the 30 kWh battery bank from 0 to 100 per cent in 20 hours of sailing at the speed of 5 knots. The consumption and the production of electric energy, logically, increase depending on the speed. The boat has all the features of a modern and comfortable cruiser racer with many elegant and ergonomic solutions.
"At Salona Yachts, we are highly aware of the natural wealth where we are living and of having the privilege of enjoying the magic of the sea and virgin nature in complete silence while sailing on our new & unique Salona 46.

We are committed to the future of our planet, and so we put special care into the environmental impact in our operations."
It is convenient for a multi-day sailing with family or friends with no need to go ashore and, as far as we can tell, it stands a good chance in a regatta. You will find more details and impressions in the December/January issue of More magazine, No.257.
Technology used in the electric Salona 46 sailboat:
Boatbuilder: Salona Yachts
LOA: 14.14 m
Boat beam: 4.2 m
Displacement (light): 9200 kg
Electric motor system: 2 x Oceanvolt ServoProp 10
Electric motor system nominal power: 2 x 10kW
Electric motor system voltage: 48 V
Batteries: 30,4kWh lithium-ion battery pack
Download the Salona 46 brochure here.